April 06, 2016
Black Panther (2016) #1
A new era for the Black Panther starts here! Written by MacArthur Genius and National Book Award winner TA-NEHISI COATES (Between the World and Me) and illustrated by living legend BRIAN STELFREEZE, "A Nation Under Our Feet" is a story about dramatic upheaval in Wakanda and the Black Panther's struggle to do right by his people as their ruler. Read More…
May 11, 2016
Black Panther (2016) #2
The darkest chapter of the Black Panther mythos continues as Wakanda crumbles from within. Enter: The Midnight Angels! Two mysterious women leading the citizen revolt against the current regime of Wakanda, challenging not only T'Challa's politics but also his resolve. Read more…
June 29, 2016
Black Panther (2016) #3
The most anticipated Marvel series since Whedon & Cassaday's Astonishing X-Men! The Midnight Angels continue the liberation of Wakanda with extreme prejudice, and T'Challa's indecisions could cost him more than just the throne. Read more…
July 27, 2016
Black Panther (2016) #4
"A NATION UNDER OUR FEET," the first arc of the new hit BLACK PANTHER series, comes to a startling conclusion! Suicide bombers terrorize the people of Wakanda, further eroding any last bits of goodwill towards the royal family…
August 10, 2016
Black Panther (2016) #5
"A SWORD FOR LIONS" STARTS NOW! Ta-Nehisi Coates is joined by guest artist and modern master Chris Sprouse for the second arc chronicling the final days of the kingdom of Wakanda! As Zenzi and …
September 14, 2016
Black Panther (2016) #6
RISE OF THE DORA MILAJE! T'Challa's failures as king are revealed to the UNITED NATIONS! Ayo and Aneka, the Midnight Angels, are courted by Tetu and The People to raise Wakanda to glory, but at…
October 19, 2016
Black Panther (2016) #7
"THE CREW" STARTS NOW! With no one left to trust, T'Challa leans on his day ones: Luke Cage. Misty Knight. Storm. But Wakanda may be too far gone for this all-new, all different CREW…
November 16, 2016
Black Panther (2016) #8
VOYAGE INTO THE DJALIA T'Challa's research and technology takes him to a place that not even THE CREW can follow: THE DJALIA, Wakanda's collective memory. Just getting there was hard, but…
December 28, 2016
Black Panther (2016) #9
THE BEGINNING OF THE END! Regular artist BRIAN STELFREEZE returns! Ramonda's bombing injuries worsen and recovery is starting to seem like an impossibility…Plus: Shuri returns from the … more
January 25, 2017
Black Panther (2016) #10
RETURN OF THE QUEEN! Shuri is reborn anew… New powers, a new codename and a new target: the Midnight Angels. The newly independent Dora Milaje make their final accord with Tetu and The People… … more
February 22, 2017
Black Panther (2016) #11
"A NATION UNDER OUR FEET" CONCLUSION! The combined fury of T'Challa, Shuri, Manifold and the Hatut Zeraze rains down upon Tetu and Zenzi's rebellion. But will there be anything left of … more
March 22, 2017
Black Panther (2016) #12
A NATION UNDER OUR FEET: EPILOGUE. The dust settles, and peace comes to Wakanda once again. That is, if her political leaders can come to terms….T'Challa finds himself in the last place he ever… more
April 26, 2017
Black Panther (2016) #13
"AVENGERS OF THE NEW WORLD" STARTS HERE! Eons ago, before Black Panthers, before Wakanda, before time itself?there were only the ORISHAS: Asali. Ogutemeli. Bast. The pantheon of gods and goddesses … more
May 24, 2017
Black Panther (2016) #14
"AVENGERS OF THE NEW WORLD" CONTINUES! The Wakandan gods have been silent for too long and T'Challa has no answers for his people. T'Challa communes with the spirits of former Black … more
June 28, 2017
Black Panther (2016) #15
"AVENGERS OF THE NEW WORLD" CONTINUES! The gods of Wakanda have forsaken T'Challa and his nation. As monsters of might and myth flood our world, the Midnight Angels must act…But whose interests … more
July 26, 2017
Black Panther (2016) #16
FULL COVER CHARGE! Club Fenris is the most exclusive nightspot in New York City…even a king has trouble getting in! T'Challa needs to get into VIP no matter what Piledriver and Thunderball say … more
August 30, 2017
Black Panther (2016) #17
FOREVER MY LADY! T'Challa's got royalty in his DNA, but does he have the loyalty of a goddess in his corner? Ororo Munroe, also known as Storm of the X-Men and former queen of Wakanda, is back in T'Challa's life. But is it for good this time? … more
September 27, 2017
Black Panther (2016) #18
T'Challa finds himself in an uneasy alliance with Ayo and Aneka, the Midnight Angels, when a new deity rises to claim Wakanda for its own. And making matters worse, an enemy from Black Panther's past has resurfaced with ill intentions. It seems Black Panther has one choice … more
October 25, 2017
Black Panther (2016-) #166
Wakanda's gods have disappeared. Enter the Originators! The former gods are back — but what are their intentions for a land that has forgotten them? And as Wakanda enters a new era, its enemies gather their forces. Ulysses Klaw has been biding his time, but the bells of war are ringing! Can T'Challa defeat the man who killed his father while his country struggles to its feet? … more
November 22, 2017
Black Panther (2016-) #167
The Black Panther's greatest enemy springs his trap! And with T'Challa off fighting the former gods of Wakanda, who will come to Ayo and Aneka's aid? And this is only the beginning. A cadre of villains returns as Wakanda comes to its knees! … more
December 27, 2017
Black Panther (2016) #168
KLAW STANDS SUPREME Part 3! ALL THE DOORS ARE OPEN. And for the Black Panther, that's bad news. As monsters pour through strange gateways, T'Challa must defend his country from within. But with Klaw stealing the lifeblood of Wakanda, the king will have to turn to unlikely allies to staunch the tide! Who will join the king's ill-fated crusade?
January 24, 2018
Black Panther (2016) #169
KLAW STANDS SUPREME Part 4. The Dora Milaje once lost faith in their nation. Can the threat of Ulysses Klaw and a hostile army reunite the king and his guard? Meanwhile, Klaw and his allies set in motion the next stage of their attack! Can Midnight Angels Ayo and Aneka escape to warn their king–or will the mind-controlling Zenzi reach them first? The Black Panther loses ally after ally as Klaw's powers grow. Legacy continues as T'Challa struggles to keep control!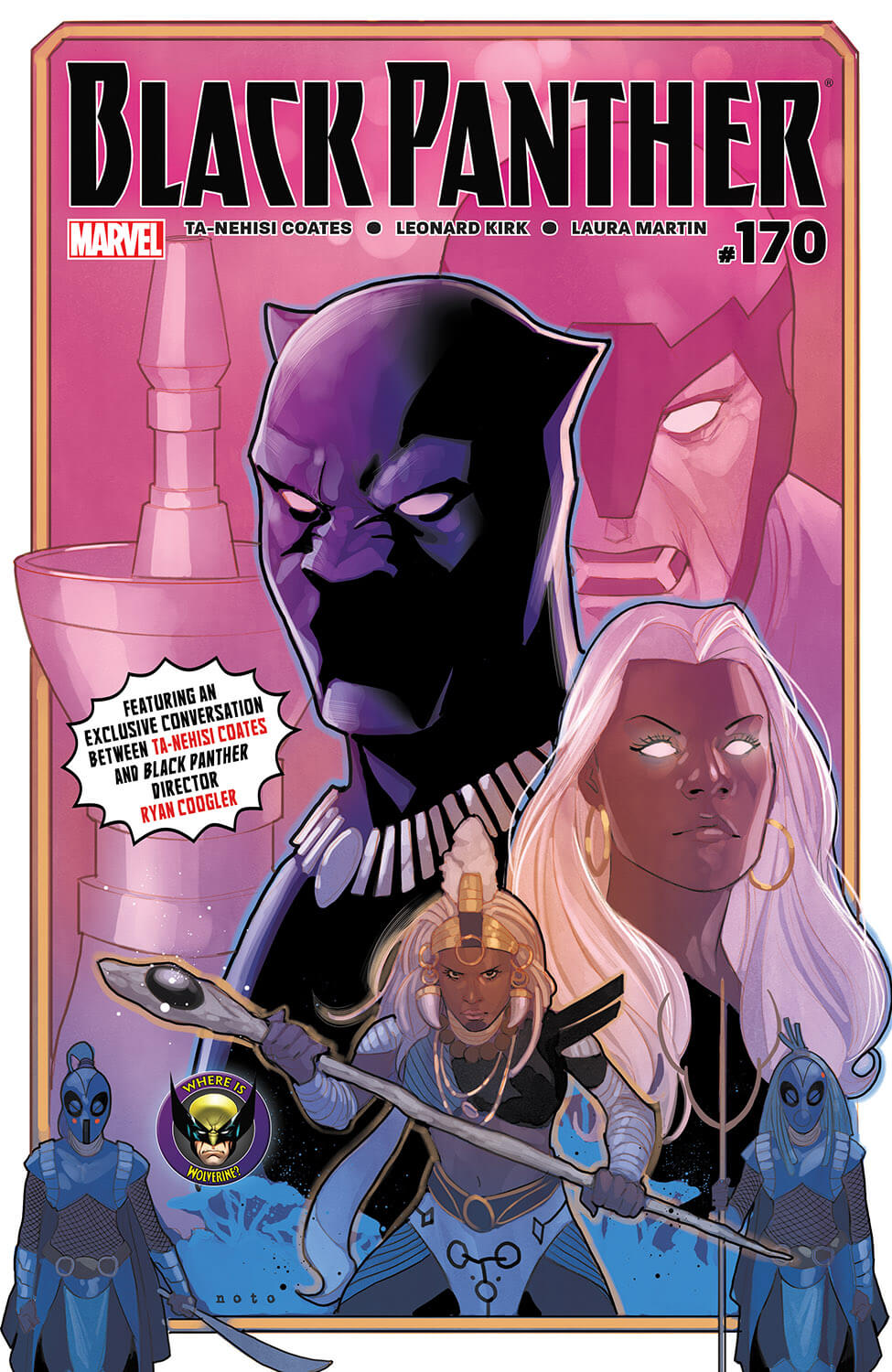 February 28, 2018
Black Panther (2016) #170
With Storm back by his side, T'Challa finally confronts Ras the Exhorter, the mysterious villain summoning dark creatures to Wakanda. But what the Black Panther learns will shake all he believes. Who IS Ras The Exhorter? And what is his connection to T'Challa's old foes? And to celebrate the release of Marvel Studios' BLACK PANTHER movie, this issue includes an exclusive interview with the film's director, Ryan Coogler, and Ta-Nehisi Coates!
March 28, 2018
Black Panther (2016) #171
KLAW STANDS SUPREME! The Black Panther finally confronts Ulysses Klaw face-to-face. Will the king lose his country? But Klaw is not the only monster corrupting Wakanda. The gods are still lost — all save one. The true Originator returns!
April 18, 2018
Black Panther (2016) #172
Klaw and his allies have brought Wakanda to the brink of destruction. To seal the deal, Klaw has summoned a powerful Marvel foe not seen in years. But Black Panther isn't done fighting yet. He still has a secret weapon: his ex-wife.